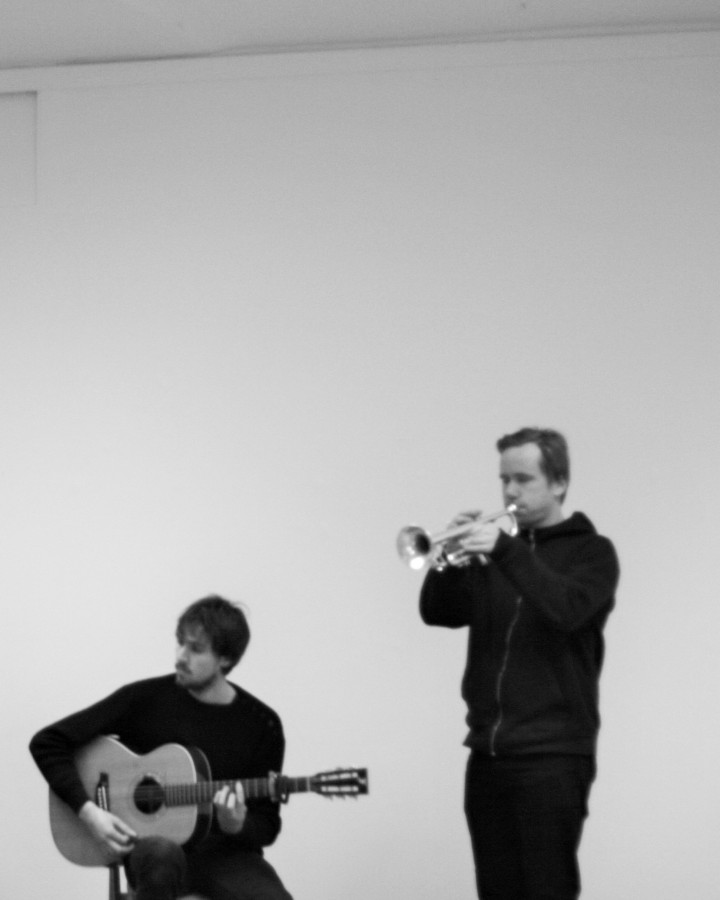 Pip is a duo playing improvised and composed pieces of music, consisting of Torstein Lavik Larsen on trumpet and Fredrik Rasten on guitar. Long lasting, blending sounds with a basis in chord structures and harmony is an ever returning element in their music.  Pip's music also emphasizes small variations in tonal colour, often applying just intonation, extended playing techniques and repeating musical patterns. Sometimes they include electronic sounds, without leaving behind the core sound of guitar and trumpet as a point of departure.
The duo has existed since 2006, and since then explored many different musical approaches. A recuring theme of their exploration has been expansions of the duo instrumentarium, including electronics, multiple guitars and different electronic and acoustic keyboard instruments.
Pip released their first official release on the Portuguese label Creative Sources in 2016, and they have toured in countries as Germany, Czech Republic, England and the Scandinavian countries.
The duo has also worked with artists from other disciplines. They collaborated with choreographer and contemporary dancer Marie Bergby Handeland on the piece Lyden av besluttsomhet, jeg tåler den ikke, which were premiered at the CODA festival in Oslo in 2013, and they have also worked together and performed with the Copenhagen-based live visuals duo of Freya Sif Hestnes and My Lambertsen, called Manuals.
Torstein and Fredrik also play together in the band Oker, with drummer Jan Martin Gismervik and bass player Adrian Fiskum Myhr, and in the quartet Volumes with Magda Mayas on prepared piano and Isak Hedtjärn on clarinet.