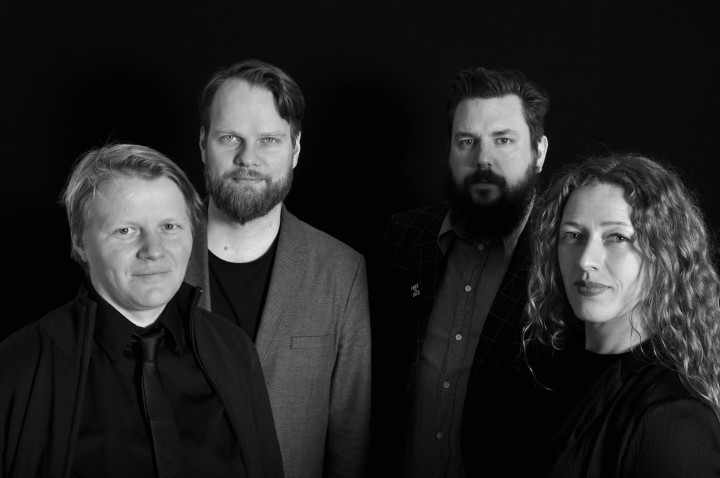 Lemur is Bjørnar Habbestad flutes, Hild Sofie Tafjord french horn, Lene Grenager cello and Michael Francis Duch double bass
Lemur performs, creates and curates contemporary music in improvised, composed, mediated and conceptual formats. The group works as four-headed organism of strong-minded individuals geared on creative group processes.
Since forming in 2006 Lemur has performed in Norway, Sweden, Denmark, Iceland, Germany, Belgium, Holland, France, Italy, Latvia, Taiwan, Macau, China, England and Scotland. Their albums on +3db records have been met with much critical acclaim, as is the case with their collaborations with Stian Westerhus, Paul Lytton, Julia Eckhardt, Mats Gustafsson, Ilan Volkov, Lotte Anker, Amit Sen, Robin Hayward, John Hegre, Caput Ensemble, Glasgow Improvisors Orchestra, Dickson Dee, Trondheim Sinfonietta, N Ensemble and Tom Løberg amongst others.
From 2011 to 2018 the group curated the concert series PB.1898 at Bomuldsfabriken Kunsthall in Arendal. In 2018, Lemur is Ensemble-in-Residence at the National Museum of Art, Architecture and Design. 
Reinhold Friedl is known for his radical music. He received numerous prizes and fellowships as Eurocréation Paris, Villa Serpentara Rome (Berliner Akademie der Künste), STEIM Amsterdam, Paris Cité des Arts,... as well as commissions by the French State, Maerzmusik Berliner Festspiele, Wiener Festwochen, Asphodel San Francisco, ZKM Karlsruhe, RomaEuropa Festival, the BBC London, Ultima Osolo. His music is performed by groups like Diotima Quartet Paris or Ensemble 2e2m. Friedl released over hundred CDs and LPs as composer and performer. interdisciplinary cooperations with artists as Sasha Waltz, Frank Castorf (Volksbühne Berlin), Lillevan.
Friedl founded and directs the ensembles Piano-Inside Out and zeitkratzer and is known as expert for extended piano techniques. Friedl cooperated with various musicans as Phil Niblock, Lou Reed, Alvin Lucier, Lee Renaldo (Sonic Youth), Helmut Oehring, Nicolas Collins, Laurie Anderson, Merzbow, Mario Bertoncini, Keiji Haino, Rashad Becker, and has made countless radio and CD recordings.