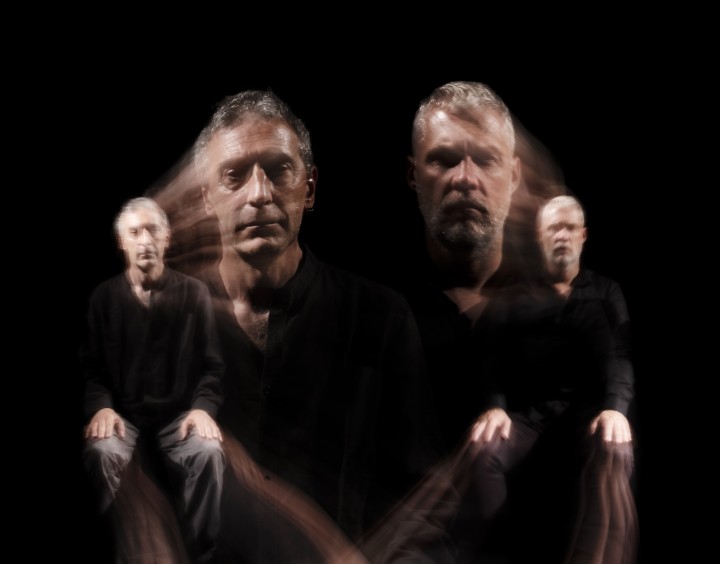 MICHELE RABBIA
Percussionist, drummer.
Born in Turin in '65 , after his first studies at the school " Civica Savigliano ," follows the courses of drums in Turin with Enrico Lucchini . In 1989 he went to the United States where he had the opportunity to attend lessons whit Joe Hunt and Alan Dawson. Back in Italy, he moved to Rome and began his career performing and recording collaborating with Stefano Battaglia, Marilyn Crispell, Dominique Pifarely, Andy Sheppard, Eivind Aarset, Daniele Roccato, Louis Sclavis, Paul McCandless, Paolo Fresu, Masa Kamaguchi, Antonello Salis, Maria Pia De Vito, Marc Ducret, Roscoe Mitchell, Vincent Courtois, Emile Parisien, Roberto Negro, Michel Godard, Rita Marcotulli, Benoit Delbecq, Jim Black, Ingar Zach, Anja Lechner, Ciro Longobardi, Maurizio Giri, Matthew Shipp, Bruno Angelini, Michel Portal, John Taylor, Elio Martusciello, Sabina Meyer, Regis Huby, François Couturier, David Linx, Ralph Towner, Aires Tango, Javier Girotto, Sainkho Namtchylak, Jan Bang, Théo Ceccaldi, Tore Brunborg , Enrico Pieranunzi, Matmos, John Tchicai, Bruno Chevillon , Furio Di Castri , Michel Benita , Italian Instable Orchestra, Jean-Paul Celea , Giovanni Maier, Enzo Pietropaoli, Roberto Cecchetto, Paolo Damiani, Daniele di Bonaventura, Daniele D' Agaro, Giovanni Guidi, Luciano Biondini, Rosario Giuliani, Giorgio Pacorig, Gabriele Mirabassi, Gianluca Petrella, Giancarlo Schiaffini, Salvatore Bonafede, Michael Thieke, Roberto Bellatalla and many others.
His collaborations also extend in the dance with Virgilio Sieni, Tery J. Weikel , Giorgio Rossi , compose the music for the show " Genova 01" Fausto Paravidino for literature with the writer Dacia Maraini , Gabriel Frasca and Sara Ventroni, with the painter Gabriele Amadori and architect James Turrell.He has performed in the most important European festivals , China, India and the United States.
INGAR ZACH
Ingar Zach (b. June 29th 1971 in Oslo, Norway) is a norwegian percussionist and composer. He begins his percussion training already at age 7 in the local schoolband in Oslo. During his teens he is active in the local jazz big band and also starts a progressive rock band at the age of 15. There is nothing generic about Ingar Zach's dance with his instruments — the gestural information is highly personal and specific. In common with most modern percussionists, many of his gestures aren't hitting — there's rubbing, blowing, rolling, bowing, scraping — and the gestures are not only bodily multiplicitous, they are technologically varied — mechanical devices, electrical engines and digital sources create layers — the drumskin becomes a promiscuous sonic conduit of a sort-of museum to mankind's varied technologies. Ingar Zach's kit is a constantly evolving bespoke collection — never exactly the same on any gig or recording — there is little preset or 'off the shelf' in the objects assembled, and each unique set-up becomes a one-off playground. At the basis of his kit is the Gran Cassa, which becomes a table, both physically and musically — many sounds resonate and are amplified through it. All this creates ambiguous, unique sounds that helps to listen afresh, but it doesn't entirely explain the phenomena of his music. There is a deeper process that allows us to hear his sounds as if re-wilded. His sounding/listening doesn't go through a process of analysis based on a reductive notation system. He's post literate. The drum behaves differently in every time/space and you can never predict the result — he's of a generation who's mind is unburdened by the instinct to filter that phenomena through a writing technology — he listens to each sound as a unique event, unclassified according to past notions and future reproducibility. Ingar
Zach is one of the most adept and focussed musicians at creating a music based on this immediate, deep listening. Ingar Zach is currently working with his regular groups like; HUNTSVILLE (N) (w/Ivar Grydeland and Tonny Kluften), DANS LES ARBRES w/ Christian Wallumrød (NOR) - piano, Xavier Charles (FRA) - clarinet, Ivar Grydeland (NOR) - guitar/banjo, LABFIELD (w/David Stackenäs), O3 w/Alessandra Rombolá (ITA) – flutes, Esteban Algora (SPA) – accordion.