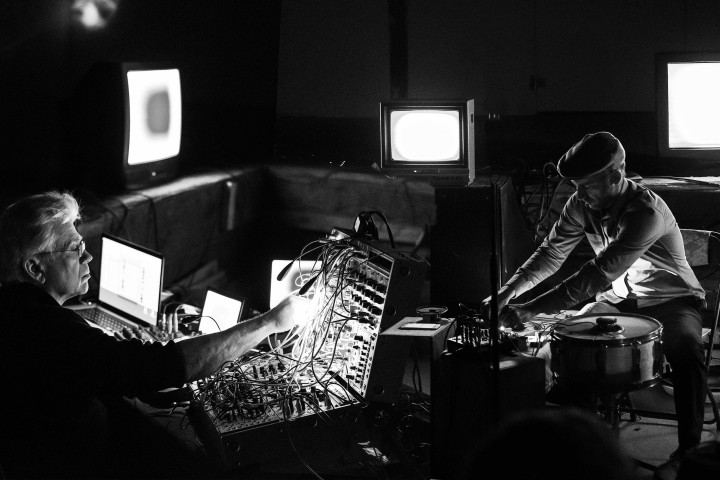 Kjell Bjørgeengen looks upon his art as an investigation of a reality which needs to be worked upon and changed in both artistic and political ways.
His video work began in association with The Experimental Television Center in Owego, New York, which specialized in the development of new video technology for artists. There he met Dave Jones with whom Kjell collaborated on a number of large-scale video installations and, most recently, in the development of the Jones VideoSynth which Kjell uses for his prints, live performances and installations. Since 2000, he has worked exclusively with audiogenerated video using the Jones VideoSynth and the Jones Flood Coil—a device which mimics a CRT monitor where the debris of the magnetic fallout is picked up and turned into sound. It is featured prominently in the Fear of the Object art box.
Bjørgeengen has exhibited widely in his native Norway including a series of large-scale video installations at Kunstnernes Hus, The National Museum of Art, Bergen Art Museum, Stavanger Art Museum, Kristiansand Art Museum, Kristiansand Arthall and Gallery K.
He has shown internationally in the Hara Museum of Contemporary Art (Tokyo), The Ludwig Forum (Aachen, Germany), Dundee Contemporary Arts (Scotland), and the Pori Art Museum (Finland), among others.
His first video "Fade in" had original music by Svein Finnerud trio. For his audio generated video performances Kjell has worked with Jon Balke, Joëlle Léandre, Okkyung Lee, Uchihashi Kazuhisa, Jin Hi Kim, Otomo Yoshihide, MIMEO, Evan Parker Electro Acoustic Ensemble, Aernoudt Jacobs, Streifenjunko, MURAL, Lasse Marhaug, Marc Ribot, Kim Myhr, Toshimaru Nakamura, Thomas Lehn, Rick Reed, Jim Denley, Inga Margrete Aas, John Tilbury, and most frequently with British avant-gardist Keith Rowe. In the last few years his input to the music part has grown, incorporating the sound of the video in the mix with his fellow musicians. This has been an important development especially with his group Fear of the Object, and in upcoming projects and releases with Keith Rowe, John Tilbury and Lasse Marhaug.
Chris Cogburn (b. 1973 Eugene, Oregon) is a percussionist based in Mexico City. Current music practices focus on the threshold between acoustic and electronic sounds, their differing timbral qualities and their sites of resonance. Tensions between just intonation and the unfettered resonances of objects is a burgeoning concern informing his most recent work.
Current projects include: A Spirale with Italian experimentalists Mario Gabola and Maurizio Argenziano; Anáhuac, with turntablist Ignaz Schick and double bassist Juan García; and Fear of the Object, an audio-visual project in collaboration with video artist Kjell Bjørgeengen and guest musicians including Juan García, percussionist Ingar Zach, and cellists Judith Hamann and Aimée Theriot-Ramos. Cogburn has released recordings on several labels including Astral Spirits, Another Timbre, INSUB, Simple Geometry, Balance Point Acoustics, Sofa, among others. Beginning in the summer of 2003, Cogburn has hosted an annual festival of improvised music—No Idea Festival—showcasing collaborations between improvisors from around the world. No Idea events have been held in several cities in the US, Mexico, South America, and Europe.