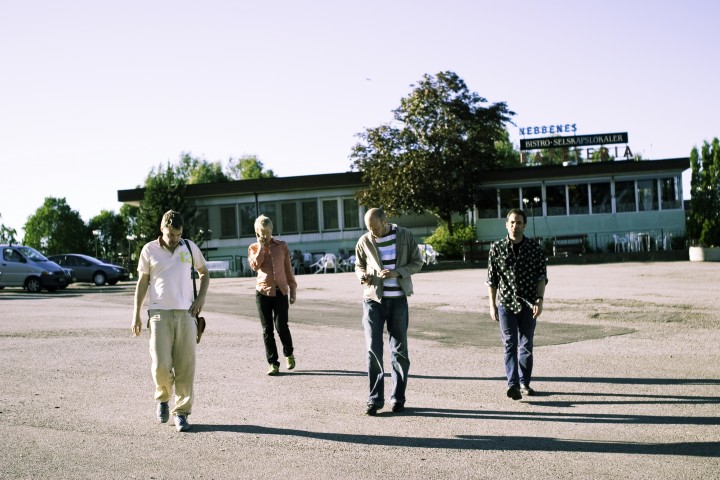 Dans les arbres is an improvising ensemble comprising French clarinetist Xavier Charles and the three Norwegians pianist Christian Wallumrød, guitarist Ivar Grydeland, and percussionist Ingar Zach. 
The group's idiosyncratic inhabitants form unusual combinations of airy, wooden, metallic sounds, prepared strings and tampered drum heads. Their world of sounds and the fine sense of communication, lead to collective playing and spontaneous group- composing named to be in a "class of its own". Their music moves gently but steadily ahead on broad planes of sound. The dynamic textural sceneries evolve as Dans les arbres harnesses its wealth of unorthodox extended techniques. 
Since the recording of their first album in 2006, Dans les arbres has performed more than 150 concerts around the globe. The two releases on ECM Records and one on Hubro – the self-titled debut Dans Les Arbres (2008), Canopée (2012) and Phosphorescence (2017) have received praise from reviewers and audiences alike. In October 2019 the group's fourth album Volatil will be out on the label SOFA. Dans les arbres was nominated for the prestigious Nordic Music Prize 2015. 
Dans les arbres have performed with guest musicians such as Yumiko Tanaka, Otomo Yoshihide, Jim O ́Rourke, the Norwegian duo Vilde & Inga and The Norwegian Wind Ensemble. Together with singers and Oslo Sinfonietta they performed the piece About Nature by Henrik Hellstenius at the Oslo Opera House in 2015. 
Christian Wallumrød – piano 
Xavier Charles – clarinet 
Ivar Grydeland – guitar 
Ingar Zach –percussion 
Releases:
Volatil (SOFA 2019) Phosphorescence (Hubro 2017) Canopée (ECM 2012)
Dans Les Arbres (ECM 2008)